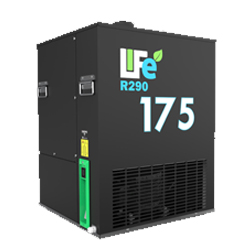 Life 175
Pre-mix beer cooler LIFE 175. Eco-friendly cooler with gas R290, reduced energy consumption and 40% higher performance compared to R404 coolers.
SPECIFICATION
VALUE
POWER
3/4 HP
TYPE OF REFRIGERANT GAS
R290A
RATED POWER (-10°C +45°C)
1710W
TANK CAPACITY
70L
NO OF COOLING COILS
1 to 8
ICE BANK
32 KG
COOLING CAPACITY (in +25°C / out -4°C)
100 Lt./hour
BEVERAGE TEMPERATURE IN/OUT
+24°C
+4°C
SUPPLY VOLTAGE STANDARD FREQUENCY
220/240V -50Hz
115V – 60Hzz
220V – 60Hz
POWER CONSUMPTION
649W
NOISE PRESSURE LEVEL
–
OPERATING TEMPERATURE ALLOWED
(+)10°/43°C
MAX RELATIVE HUMIDITY ALLOWED
80%
WEIGHT (unladen static load)
60 Kg.